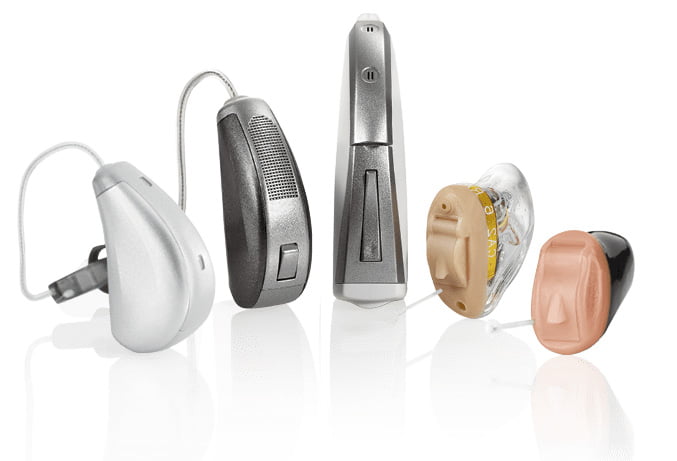 Featuring Audibel Hearing Aids
Let's face it, living with hearing loss can be frustrating, even dangerous. Hearing aids can allow you to function better in all areas of your life. You're Not Alone. 48 million Americans—or nearly one in five, age 12 and older—experience hearing loss severe enough to hinder communication. Audibel is a Starkey Hearing Technologies brand. Recognized across the globe as a premier provider of hearing healthcare, Starkey Hearing Technologies is the only privately held and American-owned company in its industry.
Hearing aids are small electronic devices that can be highly customized to address different types of hearing loss. All digital hearing aids contain at least one microphone to pick up sound, a computer chip that amplifies and processes sound, a speaker that sends the signal to your ear and a battery for power. More sophisticated models provide additional features, such as direct connection to a smartphone or rechargeable batteries.
Discover Arc AI
The world's first Healthable hearing aid with artificial intelligence and embedded sensors that allow you to track your body Activity and Engagement activity and detect when you fall. Industry-leading sound processing that uses the artificial intelligence inside the hearing aids. With a simple tap or touch in the Thrive App, the artificial intelligence scans the environment and makes changes instantaneously to help when you need it most.
Exceptional sound quality – 55 million automatic adjustments every hour to deliver realistic and genuine sound quality in every listening environment, including cars and other vehicles, so you can hear and enjoy life. Meticulously and artfully crafted hearing aids that fit right the first time for comfortable all-day wear, available to fit the widest range of hearing losses.
Personalized Control in the Thrive app that lets you make adjustments to suit your preferences in different listening environments. Surface NanoShield, our pioneering water, wax and moisture repellent system, to protect and ensure durability and dependability. Advanced Multiflex Tinnitus Technology, adjustable via the Thrive app, to bring relief to those who suffer from ringing in the ears.
And if that's not enough, its our best sounding and best performing hearing aid ever.
Invisibel iQ – Made for an invisible fit
Invisibel iQ is the most advanced technology available in our most popular invisible hearing solution. It is now the worlds smallest, most comfortable hearing that allow for hands free connectivity and media streaming from your phone to your hearing aids.
Completely-In-Canal (CIC)
Completely invisible- for mild to moderately severe hearing loss-custom made for you. Only the tiny removal handle of the hearing aid shows outside of the ear canal.
In-The-Canal (ITC)
Custom hearing aid that fits in the ear canal. Smaller portion of hearing aid shows in outer ear. Less visible- For mild to moderate hearing loss. Variety of technology levels that previously required a larger hearing aid. Custom-made for you.
In-The-Ear (ITE)
Custom hearing aid that fits within the outer portion of the ear. Easy to adjust. For mild to severe hearing loss. Custom made for you.
Receiver-In-Canal (RIC)
Small, discreet and quick to fit. Perfect for many first-time hearing aid wearers. Discreet design. Variety of color options available. Easy to adjust.
Behind-The-Ear (BTE)
The world's most common hearing aid style. Available in standard, mini or power. Variety of color options available. For moderate to severe hearing loss. Easy-to-use buttons or dials.
Phantom by SoundGear
The world's first custom Bluetooth rechargeable, hearing protection and enhancement device.
Watch our Phantom release video here!
OTC Hearing Aids
Looking for a hearing aid and have a fixed budget? Check-out our Start Over-the-Counter hearing aids. Receiver-in-Canal models available to take home today!
Call 270-821-9451 to schedule your free hearing exam today.
Elite Hearing Care will present the best hearing system options to meet your needs.
Contact Us for a FREE Hearing Exam